Review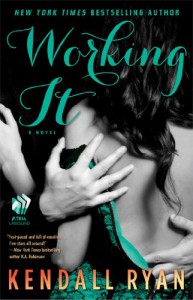 I'm a big fan of Kendall Ryan's books (Impact Of You is my favorite), so when I heard about her new book Working It and the incessant chatter about this Ben Shaw character, I jumped at the chance to snag a copy and reserve a spot on the tour. I also want to warn readers that due to sexual content and mild language, this may not be appropriate for readers under the age of 17.

The author's note before the story started cracked me up. I knew this would be a fun read, and I knew Ben would be nothing short of trouble. The prologue that follows foreshadows where they stand after Working It ends, so that was on my mind the entire time, trying to figure out what the hell could have happened. I'm still reeling, and impatiently waiting for book two, Craving Him. I ship Emmy and Ben so hard (pun intended). They need a ship name, if they don't have one already.

Moving from Tennessee to New York City tests the country girl, but Emmy takes everything in stride in her work and life. She's proud of her southern charm and twang. The fashion industry is cutthroat and Kendall Ryan shows us the nitty gritty details in depth of how accurate that is. Still, Emmy takes the job of being Fiona Stone's assistant. Emmy knows she is not of this world, but this is her first real job after graduating from college and she has bills to pay, so she sucks it up.

Ben's life rivals her own. Having a former model for a mother, he's been in this business since the beginning of his teen years. He is well traveled and has lived in multiple countries throughout his life. Yet he still finds himself drawn to the southern belle by an inexplicable pull. Two people from different worlds with nothing in common but a bunch of baggage and a burning attraction. Can these two withstand the roadblocks that are trying to put their relationship to a hault?

From the first time they laid eyes on each other, they have been utterly hyperaware of each other. It shook Emmy to her core, and she hasn't been the same since. Sounds cliche I know, but it's palpable even though they don't understand it. The sexual tension between them is as thick as the girth of Ben's erection. He can grab my hips and kiss my lips any time. I bet he tastes like the best kind of sin. He sure can kiss in every language, according to Emmy. His smiles and charm are a godsend. Ben is a distraction personified.

Having the privilege to gawk at a model like Ben Shaw on the job and taking said model to bed, you can thank your lucky stars that life can be a good fucker (excuse my French) sometimes. You'd think that life couldn't be better. But not everything is so cut-and-dry. Emmy may not be a model struggling between campaigns, or an executive trying to sell your product to a model, but being the assistant to Fiona Stone is no easy feat either.

For three months, Emmy gets to sleep in close vicinity of Ben just a few floors away with the delight to torment daily, nightly, and ever so rightly. What better place to do so in the city of romance. Yes, Paris, France, the central hub of fashion and love. That is the first time that Emmy has ever stepped foot outside of the U.S., and she can't help but indulge in the city's alluring charm. She keeps in mind that she is there because she has a job to do and not for vacation. Ben's mind can sure use a vacation from the gutter, but good luck with that. He is one hot piece of ass, who loves himself some lovin. And he sets his eyes on the curvaceous assistant, Emmy. Trying hard not to get into trouble that is Ben Shaw, Emmy has got a war in her mind-- or another anatomy. Lord knows that Ben does too, but he is more than eager to lure her to his bed. Emmy knows how to flirt back without missing a beat. Flirt the hell out of that boy, girlfriend.

There's some pushing and pulling on Emmy's part, which is reasonable because she has a job to do and that means she should keep it strictly professional. Too bad Ben wasn't having it. I couldn't stop mentally yelling at Emmy, stop thinking about stopping and let Ben love you. A guy like Ben Shaw can't just be a co-worker, he's the kind of guy to make a lady hit high C to the high heavens. Emmy can attest to that. I'm not into menage, but Ben, Emmy and Braydon together really spiced things up. The sex is so hot, it can set sheets on fire an incinerate everything in it's wake. Less love triangles; more threesomes. I thought I had to put this book in the freezer, because if my kindle can withstand all this heat, it needs a cool down. Okay, maybe I'm getting a bit too carried away here, but it's hard not to when it comes to them (pun intended). Tongues and limbs tangled, flesh contortioned into r-rated abstract art and the bed (or rooftop chairs wink wink) is their canvas. Can I have a cameo in the next books with Ben or Bray? Or both, perhaps? I kid, I kid (mostly).

I lust Ben. Okay, I a little bit love him too. Ben is eminently lickable. Mental stimulation is the ultimate foreplay with Mr. Shaw. Undress my mind, touch my thoughts and all that. And does he do just that and then some with Ms. Emmy Clarke. His dirty mouth is plenty tasteful. Then there is that physically and emotionally-driven prowess behind his stamina when his primal side surfaces.

Fiona Stone may be a notorious ice queen of a boss, no doubt as part of the job description, but she melts at the mere existence of Ben. Than again, who wouldn't? However, her being in her 30s or 40s, I thought her infatuation with Ben and their bizarre relationship is weird. She charts toward cougar territory, but acts like a child when she's not the object of Ben's attention. It's sickening, actually. It is something that I don't understand, and it's probably best that way. Dealing with the fashion business and Fiona (she needs her own mention), I was thinking, is this how hell feels like? Because Fiona could be like a spawn of the devil. Okay that was mean, but then again so is she. Take my word for it. I applaud Emmy for staying strong through it all, being treated like a lackey. When Fiona finds out about Ben and Emmy's relationship, she is none too happy about it and deviously takes matters into her own hands. I mentally slapped Fiona too many times to count. She's a real piece of work, I can tell you that.

Braydon deserves a sigh or two. I blush so hard when he comes to mind. He is such a cool guy, sexy as sin, and funny as hell. I grew quite fond of him. It's no wonder, he's a friend of Ben, and he so happens to be a model. I'm excited that he will be in the sequel and get his very own book alongside Ellie. Speaking of Ellie, Emmy's roommate in NYC, is quite the character also. She's a straight-laced hardass who is such a great friend to Emmy. She is also really funny and almost as crass as Ben. She's from New York, but she did not adopt the New Yorkern stereotype. Well, they don't exactly start off well because she perceives him a douche bag model. They do not get along well, on Ellie's part, but the chemistry is there. Even though Braydon is still capable of being as gentlemanly as possible while intoxicated at a bar, Ellie can see through him (or so she thinks). That's the start of their story, and it'll be really interesting to see how it all unfolds between them. I can't forget Gunnar because he is unforgettable. They are grade A secondary characters and friends to Emmy and Ben.

Models aren't all perfect, despite their highly worshiped body. Ben is cloaked in shadows and secrecy. He's hiding something(s). A past that can make anyone run. Secrets that makes me want to rip off his weapon of coercion and choke him with it. (Okay, we don't get that far yet). And then there is his strange relationship with Fiona. We're left in the dark for quite a while, then BOMBSHELL! What a plot twist. Shit hit the fan bad, and boy did it hurt. Emmy emotionally undressed in front of him, and she feels that Ben poured acid to her heart with that bombshell. I felt for her. I may not wear my heart on my sleeve like she does, but secrets rub me the wrong way. Good thing we get to be inside Ben's mind to know the truth (that is if he's being honest with himself). And if what he explained to Emmy really is true. I wanted to grill Ben like a hamburger-- still do. Well, it doesn't end there like I expected. There's a grace period in the aftershock of Fiona's bombshell that Emmy and Ben are coping with. They decide to reconcile and work on their relationship. They come to realize that they have a lot of work to do. Sometimes when love comes knocking, the pull is too strong not to answer. That sets things in motion for what is to come in the sequel Craving Him. Speaking of the sequel, I wonder if there is drama to unfold and a dirty past to be unveiled about this Victoria Secret supermodel ex-girlfriend of Ben's. There has to be a reason that she was introduced rather coyly and shortly. I get the feeling she has a motive. Seems to be the thing of the bizz. Or maybe it's just me reading too much into things again.

I apologize for this review being on the inappropriate side and a bit messy. I can't help myself when it comes to the ever so delectable Mr. Ben Shaw. I blame Ben for embedding himself deep in my mind and corrupting it. It never left the gutter. He's a bad influence. Kendall Ryan was right: he doesn't shut up. Kendall Ryan knows how to create solid characters and a storyline that sticks. She provides loads to indulge in, swoon and drool over, and has the ability to leave you sated yet high and dry all in one book. Ryan also did a swell job of doing research to help convey an understanding of the dog eat dog world behind the runway (or backdrop). The secrets, deceit, the dirt behind the glamour, pasts, relationships, friendships and hardships. Not to mention explosive sexytimes between Emmy and Ben. Kendall Ryan, I dub you as my Woman Crush Wednesday, because you rightfully deserve it.